In the Spotlight Emma Firmstone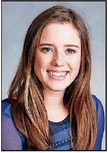 Former Honesdale High School standout Emma Firmstone is continuing her academic and athletic career at the NCAA level.
A freshman member of the Yale University women's gymnastics team, Firmstone belongs to the Class of 2020.
In Yale's most recent match, the Ivy League regular season opener at Penn, the Bulldogs absorbed a razor-thin 193.575-192.125 setback.
Firmstone turned in a solid performance, the highlight of which was a score of 9.525 on the vault.
Emma arrived on the scene at New Haven as a level 10 from United Sports Academy in Dunmore, Pennsylvania. Emma is both a competitive allarounder and a standout on balance beam.
Firmstone placed 18th in the All-Around at Junior Olympic National Championships in 2016. She placed fourth on balance beam in 2015 and 10th in 2016 at JO National Championships.
She also holds multiple first place Balance Beam titles in Pennsylvania and in Region Seven.
Emma is the daughter of George & Katie Firmstone, Honesdale.